Give a new value to a musical instrument! SP1000M
GOLD
Give a new value to a musical instrument!
A&ultima's second product, SP1000M, which was born with no compromise as to sound, gave a new value to Gold.

For the sound close to the original sound, please enjoy the beautiful musical instrument and music trip born with the combination of the gold plating and the brass about 99.7% purity combined with many attempts.
Brass Body with Gold Plated 99.7%
Octa-Core CPU for Next-Level Performance
AK4497EQ Dual DAC for Highest Sound Quality
4.1 Inch HD Display
Highest Quality Audio of SP1000
DNLA-Based AK Connect App
Open APP Service
AK4497EQ
Dual DAC

32-bit 384 kHz
bit-to-bit Play

Native DSD

Octa-Core CPU

Parametric EQ

200fs VCXO
Reference Clock

USB Type-C
Fast Charging

720 x 1,280
Touchscreen

Open App
Service
SP1000M
The "M" in SP1000M does not stand for a specific word,
but rather encompasses directions that the product aims to pursue.
M

ini

Smaller than the SP1000

M

obility

More portable.

M

aximum

Produces the highest-quality audio.

M

ania

For users who have a mania for original sound.

M

ate

Perfect anytime and anywhere.

M

oment

Listeners are in the present with music.
SP1000M GOLD vs. SP1000
CPU

Exynos 7420 Octa-Core

Exynos 7420 Octa-Core

LCD

4.1inch (720 x 1,280) Touchscreen

5inch (720 x 1,280) Touchscreen

DAC

AKM AK4499EQ x2 (Dual DAC)

AKM AK4497EQ x2 (Dual DAC)

Material

Brass

Stainless Steel, Copper

Memory

256GB

256GB

Battery

3,300mAh / 10hrs

3,700mAh / 12hrs

Output Level

Unbalanced 2.1Vrms
Balanced 4.2Vrms (Condition No Load) Unbalanced 2.2Vrms
Balanced 3.9Vrms (Condition No Load)

Signal to Noise Ratio

Unbalance 120dB @ 1kHz
Balance 123dB @ 1kHz Unbalance 120dB @ 1kHz
Balance 122dB @ 1kHz

THD+N

Unbalance 0.0007% @ 1kHz
Balance 0.0006% @ 1kHz Unbalance 0.0005% @ 1kHz
Balance 0.0008% @ 1kHz

Clock Jitter

25ps(typ)

30ps(typ)
* SNR (Signal to Noise Ratio) As the signal-to-noise ratio increases, the clearer the sound becomes.
* THD+N (THD + Noise, Distortion) over the THD + Noise signal rate, less distortion is heard.
Using Open APP Service
The Open APP Service enables the user to install specific APK music streaming apps to the device.
Copy the desired APK into the Open Service folder of the product and install the relevant App in the Menu-Service of the product.

Open APP Service
Advanced User Interface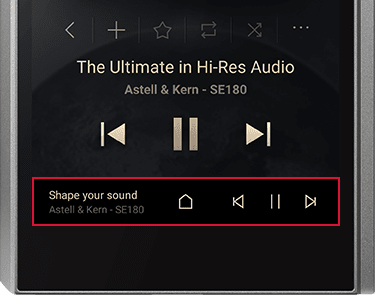 While the A&ultima SP1000M GOLD has the same intuitive menu composition as its predecessor, the SP1000, its user interface has been improved with the optional Virtual Back Key, which enables users to control the device more easily and conveniently.

Use the Floating feature to place the Virtual Back Key at a desired location or disable it by simply dragging it to the middle of the screen or turning it off from the Settings menu.
Great Performance for the Ultimate Experience
The A&ultima SP1000M GOLD is equipped with an octa-core CPU which allows the player to produce the exact musical detail present in the original recording without distortion and provides a quick, lag-free operation. The A&ultima SP1000M GOLD features faster booting times, speedy file transfers, lag-free processing and a new intuitive user interface for the ultimate player experience.
Octa-Core

Hex-Core

Quad-Core

Dual-Core

Single-Core
Ultimate Sound Quality
The latest AK4497EQ dual-DAC design and the upgraded CPU in the A&ultima SP1000M GOLD allows for accurate playback of native 32bit/384kHz audio with no compromise on sound quality.The music is played back, bit-for-bit, just as the artist and engineer intended for it to be heard.

The A&ultima SP1000M GOLD also supports native bit-to-bit DSD playback up to 11.2MHz for the best sound possible.
32-bit bit-to-bit Playback by the SP1000M GOLD
32-bit Playback by Other Products
Faster Charging, Quicker File Transfer
3hours

Charging about

10hours

Playing back up to

10Gbps

file transfer speeds up to
Next generation USB Type-C support allows file transfer speeds up to 10Gbps and supports both data transfer and charging from the same cable. USB 3.0 protocol transfers data twice as fast when compared to other Astell&Kern players. Charging with a fast charger (at 9V/1.67A) takes only two hours and allows up to 12 hours of continuous playback.
The maximum 10-hour continuous play is based on 16-bit/44 kHz, FLAC file format, screen off, 75 of volume playback.
Fast charger (9V/1.67A) and general Charger (5V/2A) are not included in the package.
MQA (Master Quality Authenticated) is an award-winning British technology that delivers the sound of the original master recording.
The master MQA file is fully authenticated and is small enough to stream or download. Visit mqa.co.uk for more information.
Astell&Kern SP1000M GOLD includes MQA technology, which enables you to play back MQA audio files and streams,
delivering the sound of the original master recording.

The MQA logo is a trade mark of MQA Limited. © MQA Limited 2018


Discover more
DESIGN
The Wax leather used in the SP1000M Gold bundle leather case is a premium vegetable leather made from an Italian tanner named 'Badalassi Carlo'.
It's a manufacture of Italian and French origin. Badalassi Carlo was made by Professor Carlo Badalassi, who is known for his excellent skills with leather. Unlike modern methods, he uses a traditional method of making leather that requires extensive time and devotion.